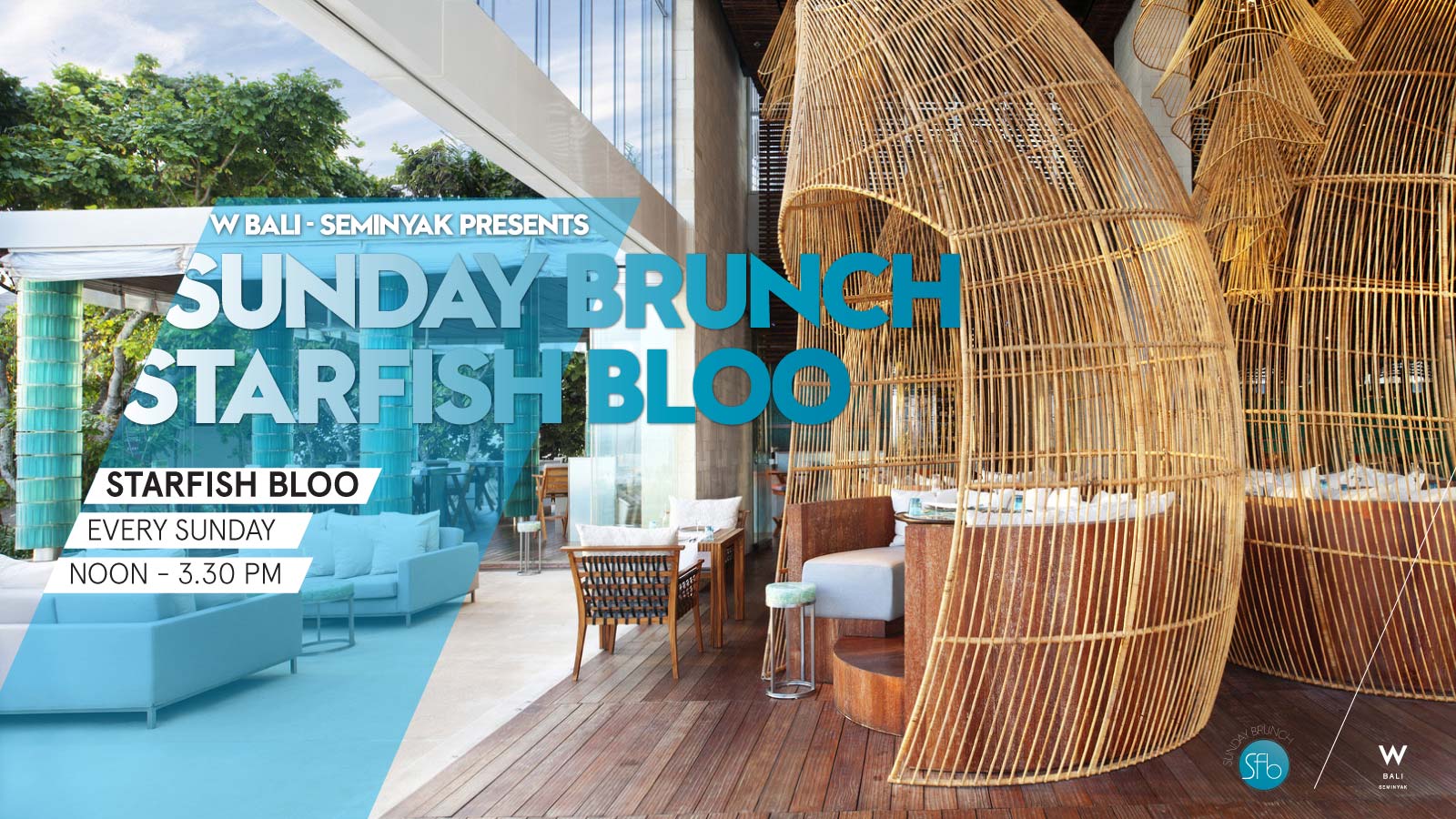 SUNDAY BRUNCH
THE BRUNCH OF ALL BRUNCHES. SUNDAYS 12 PM – 3.30 PM
Spend the afternoon at Starfish Bloo W Bali and dive into a multitude of tastes across a generous selection of Pan Asian flavours and international stations.
IDR 535K++ FOOD Including free flow of soft drinks, juice and a glass of bubbles as a welcome drink.
IDR 1.150K++ FOOD & BEVERAGES Including free flow of bubbles, wines, beer, selected cocktails, soft drinks and juices
IDR 1.900K++ FOOD & CHAMPAGNE Including free flow of champagne, wines, beer, selected cocktails, soft drinks and juices.
Children age 3 – 11 years old will be charged 50% of each package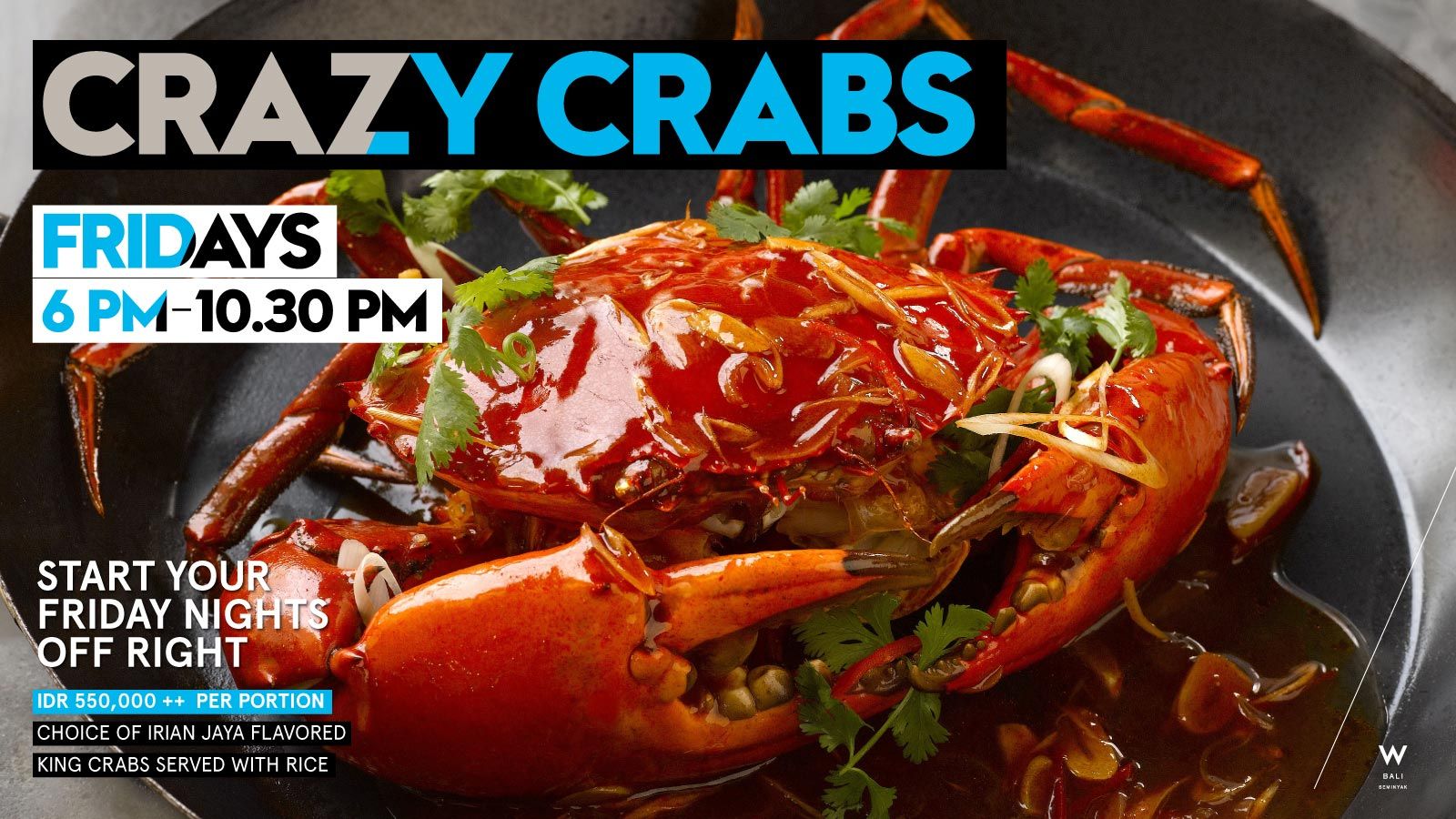 CRAZY CRAB
EVERY FRIDAY 6 PM
Feeling crabby? That's what Fridays are made for. From IDR 550,000 ++ PER PERSON, choose your favorite flavor and savor a delicious concoction of Irian Jaya king crabs.
Yellow Curry / Three Flavour Sauce / Balinese Style / Sambal Starfish Bloo Style / Chilli Crab Aromatic / Borneo Crab Curry
고객 후기
Hear from our guests about their stay from 351건의 검증된 고객 후기
93%의 손님이 이 호텔을 추천했습니다
esther7
W Hotel is located in beach. I could hear the sound of the waves. And it's near by Seminyak Load. There are many famous restaurants. We enjoyed swimming anytime. OceanView Room's sunset is very fantastic. I recommned W Hotel in Bali
4.6 /5
객실의 쾌적함

호텔 직원

편안한 수면

시설

SPG 인증

음식 및 음료
SUNSET ON ICE
Every Saturday 5PM – 7PM
Experience the ultimate , relaxing sunset vantage point – a place to simply enjoy food and drinks in a casual yet elegant atmosphere. The new cocktails at Ice Bar are a play on the Pan Asian experience inspired by Starfish Bloo, featuring spices and accents from multiple regions across Asia. We keep it fresh as ice at Ice Bar by incorporating frozen signature cocktails and ice techniques. Refresh yourself and chill to the sound of waves.
Enjoy smooth chill-out beats whilst indulging in complimentary canapés. Sip an ultra cold Beluga vodka cocktails at two for one. Tasting our oysters on ice is a must.
고객 후기
Hear from our guests about their stay from 351건의 검증된 고객 후기
93%의 손님이 이 호텔을 추천했습니다
esther7
W Hotel is located in beach. I could hear the sound of the waves. And it's near by Seminyak Load. There are many famous restaurants. We enjoyed swimming anytime. OceanView Room's sunset is very fantastic. I recommned W Hotel in Bali
4.6 /5
객실의 쾌적함

호텔 직원

편안한 수면

시설

SPG 인증

음식 및 음료